original post: http://karenjcarlisle.com/2017/01/01/a-new-beginning/
It's a new year, prompting the obligatory new year post.
It's official. 2016 sucked. Its carnage weighs heavy on my soul - the almost-monthly announcements of cultural icons who have influenced my life: David Bowie and Alan Rickman from cancer, Prince, Mahammud Ali, Jon English, and the shocking accidental death of newcomer Anton Yelchin who played one of my favourite Star Trek characters. Next to go was Kenny Baker(R2D2), Gene Wilder (comedian), Leonard Cohen (poet), Robert Vaughn (Man from UNCLE), Florence Henderson (Mrs Brady), Ron Glass (Book from Firefly), Andrew Sachs (Manuel), Zsa Zsa Gabor and Rick Parfitt (Status Quo).
What more could 2016 throw at us?
Then came the news: Carrie Fisher - a symbol of strength as Princess Leia, the rebel fighter, and Ms Fisher, advocate for mental illness who fought to bring it out of the shadows - was rushed to hospital following a heart attack.
While the world tweeted its outrage at 2016 for being a right, proper bastard, 2016 thumbed its nose, proved itself to be an utter, proper bastard and took George Michael and writer Richard Adams then, in defiance, finally claimed Carrie Fisher. Debbie Reynolds followed her beloved daughter into the moonlight the very next day.
I suppose I could be rational. I am getting older. My heroes are aging as well. David Bowie could not live forever (though his music will keep him alive in my heart). But that's not how it feels. It feels personal. That is why I need to grieve. And I'm not alone. That is why we all need to grieve. It is why we feel the need to anthropomorphise 2016, making it the focus of our grief - particularly the anger phase. Why? Why must we grow old? Why must we die?
Because, that is life - a roller coaster of emotions which makes us human.
And now 2016 is gone (and good riddance!), we can look at it with a clearer perspective. The media and social media concentrated on the negative - including a hoax report of Queen Elizabeth's death - but there were also many positive stories.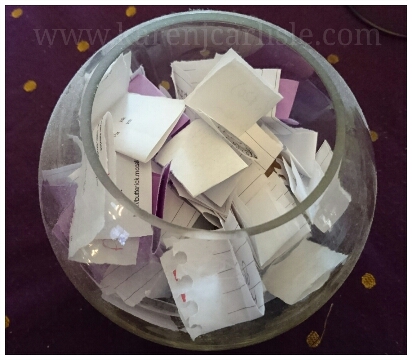 My personal list of positives comes from my thankful jar (write a note when something positive happens. Put it in a jar or bowl and read the notes at the end of the year, to remind us of the good things we may have forgotten). This is the third year I have done this. Here's just a few:
I had a couple of my photographs used for the FB banner of my Art Photographers group.

watched a Forever Knight mini-marathon with my friend, Anne.

Anne left a secret note in my thankful jar: 'Amazing hair, Karen has it!'

I was featured in three guest blogs this year and four interviews this year

launched my second, self-published book

my daughter shared her amazing artwork with me

Margaret Atwood liked one of my environmental tweets!

I received notification of my first sales to a US bookshop via my distributor

I created two new t-shirts from my Inktober original artwork

A cool southerly breeze, feeling great after two heatwaves

I got new dice and a purple octopus dice bag for my birthday

sold out of books at the Steampunk Festival book launch

back garden clean up completed

Dearheart hugged me.

and 'going through 2015 thankful jar. Wow, so many good memories'.
Now 2017 has arrived.
We stand on the brink of new possibilities, a chance for renewal, a chance to concentrate on creating positives for ourselves, to create our own self-fulfilling prophesies. To create hope.
That is why I make my New Year List. I don't like to call them resolutions. Too many people make new year resolutions. Too many of them fall by the wayside. I make a list of things to strive for and resolve to make this year a better one:
try to cope with my anxiety more effectively

writing more (it helps calm the black dog)

attend more book-related events

set up a website shop (jumped the gun on that one.)

eat more healthily (and not listen to the siren call of potato chips)

finish the third book in Viola's adventures

finish the first book in my next series, The Department of Curiosities

spend more time with my family

add memories to my 2017 thankful jar.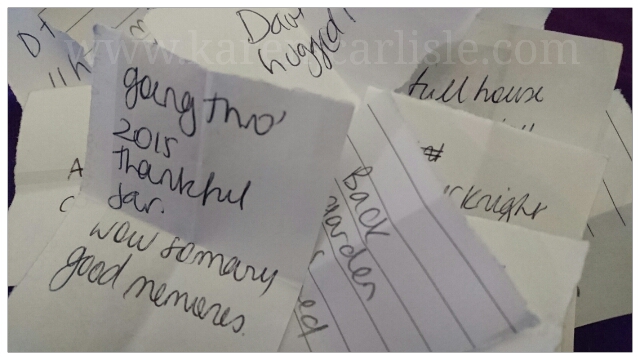 Welcome to 2017. Let's make some good memories.
Photos:©2016 Karen J Carlisle All Rights Reserved.