original post: http://karenjcarlisle.com/2017/01/08/summer-projects/
It's been a scorcher of a week. Over thirty-five earlier in the week, and over forty degrees Celcius two days running with minimum of a sticky thirty-three overnight. We've shut all the internal doors and holed up in the lounge and dining room, huddled under the air conditioner (and feeling a bit like we're trapped in a MARS module).
Have I mentioned I don't like summer?
Then the internet and Foxtel died, first on Wednesday, then again on Friday, only to reappear on Saturday afternoon.
I caught up on some culling of my costume cupboard and made a new skirt for my new 'work wardrobe' and rolled up a new D&D character.
I found some funky octopus material in the cupboard (I've already used the map material for a blouse) - only two metres but I managed to eek out a longish skirt by narrowing skirt panels and shortening the length to fit the pattern onto the available material.
I had some thread in my thread box - perfect match. I cheated and used some (leftover) bias binding to finish the hem (and get back 3cm of length).
Add a blouse and a wide belt or cinch corset and I'm ready for another book signing!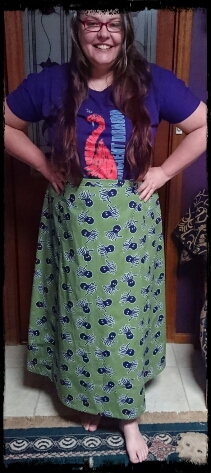 I've packed away the sewing machine for now (it's just too hot to do anything). It truly needs a service. I don't think I will be able to make a planned blouse before the tension is rectified.
Photos ©2016 Karen J Carlisle
All Rights Reserved.