original post: http://karenjcarlisle.com/2017/08/25/friday-sounds-and-pictures/
In place of Photo Friday - this week I'm talking music.
A few weeks back I was contacted by Townsville indie steampunk band, The Littmus Steampunk Band. They wanted to know if I was interested in listening to their work. Why not, I said. Richard said he'd send me a CD to check out.
I found their youTube channel. I listened to a couple of songs, liked what I heard and awaited my pressie in the post. Not long after I got a very pleasant surprise. I was expecting one CD i the post. I received three!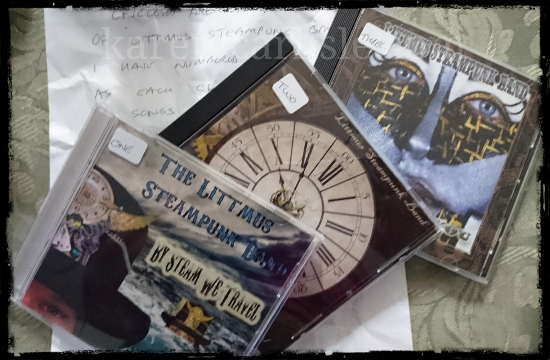 First thing I noticed was the band had female musicians through its various incarnations. This was lovely to see (though many steampunk bands appear to have female members - woot!)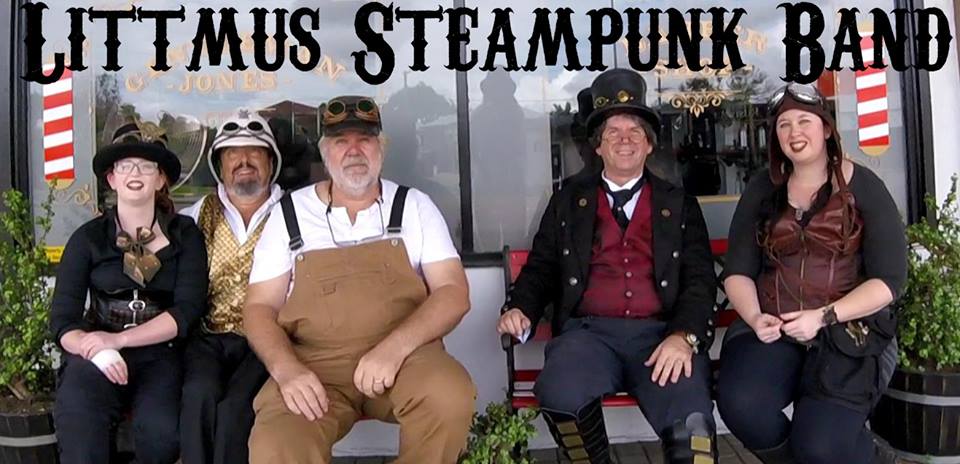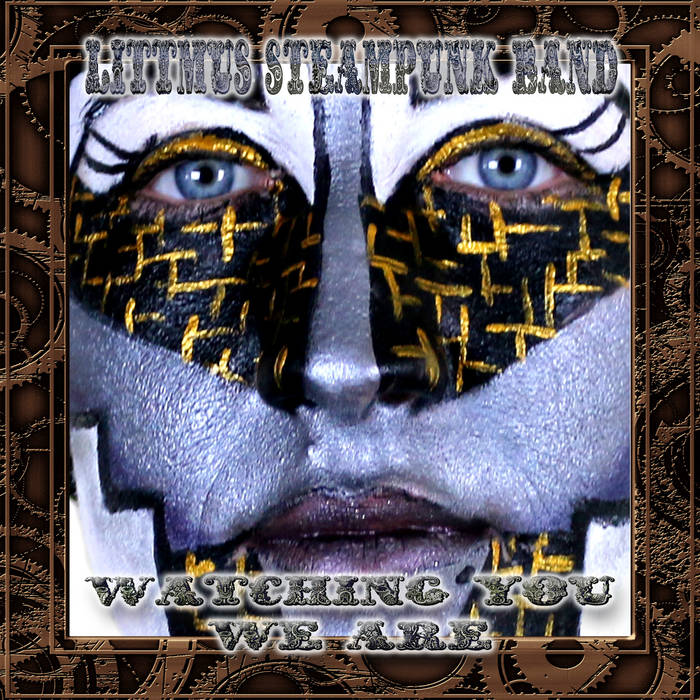 Next, was the cover artwork (well, I am an artist). My favrourite was the clock on Grand Hotel (#2). The third album, Watching You We Are, is striking, with a metallic-makeuped model.
Richard sent a note with the CDs and recommended I listen to them in order (and was kind enough to number them); I recommend the same as there is a progressive story threaded through various songs on each album. (very clever). These are the 6th, 7th and 8th of their CDs with a steampunk style.
I like music that is a little different - with an interesting voice, unusual key changes or a quirky chorus. Richard (The Red Gentleman)'s voice has a steampunky-folksy-cabaret feel, with an accent sliding from Australian to English, depending on the song.
The music is fun and relaxing (and great writing music! I got two scenes completed listening to the CDs). I found myself tapping my toe and singing along on many of the songs.
The band's Facebook page describes their music as Steampunk Pop/ Folk. I think I'd describe their style as steampunk folk cabaret music.
One of my favourite songs is Say Goodbye to Steampunk. (The answer of course is 'I don't think so.')
Richard (The Red Gentleman - Guitar / Vocals)
Keith (Mungo Stoker - Electric Guitar)
Jemma (Commander J - Bass)
Tony (Harbottle Grimstone) - Congas, Ukelele
Sam (Countess Victoria Edison_Ives- Violin)
Record Label: Syrup Records
Where to find The Littmus Steampunk Band:
Verdict: If you like The Cog is Dead (one of my favourite steampunk bands), I think you'll like The Littmus Steampunk Band.
Photos ©2017 Karen Carlisle/ ©Littmus Steampunk Band.