original post: http://karenjcarlisle.com/2017/02/26/re-imagining-a-better-world/
Historical re-enactment is often accused of avoiding the real world, ignoring history's atrocities or hiding in the past. Sometimes all three. In my experience this is not the case. Most re-enactors (and historians) will tell you it is important to look back and analyse history so we can learn from past mistakes, to improve our future.
One of the most important reasons to look back into and analyse the past is to learn from society's mistakes. Steampunk looks into the past, but with modern eyes; it is a re-imagination of the past, not a slavish re-creation. Colonial England was all about domination and power, a way to fuel the economy of mother England. Instead, we can embrace the diversity of cultures. The 'punk philosophy' inspires us to question authority, society's ethics, politics and gender roles and encourages us to look for solutions for society's short-falls. Doing so allows us to embrace cultures and celebrate diversity.
Suna Dasi of Steampunk India is one example: "Transferring this and many other aspects of Victorian society to an alternate, Post-Mutiny India, incorporating native characters unhampered by traditional gender roles, seems an opportunity for fiction that is too good to let lie."
Through steampunk, and Steampunk Hands, I discovered Josué Ramos award winning writer of science fiction, terror and historic tales. Josué is part of the Spanish steampunk community, organising the EuroSteamCon Madrid and posts regularly on (huzzah, for google translation) his blog Mundosteampunk. You can find my 2015 Steampunk Hands guest blog on Mundosteampunk here.
El Investigator is part of the Mexican steampunk community and has been involved in varied steampunk anthologies.
Beyond Victoriana is another blog celebrating multicultural steampunk. Its founding editor, Diana M. Pho, wrote the introduction for Steampunk World, an anthology published in 2014, and funded via Kickstarter. It contained stories from around the world, showcasing the diversity to be found. I'm eagerly awaiting the follow-up anthology, Steampunk Universe - also funded via Kickstarter. Stories highlight disabled and aneurotypical characters. Both have cover art by steampunk artist, James Ng.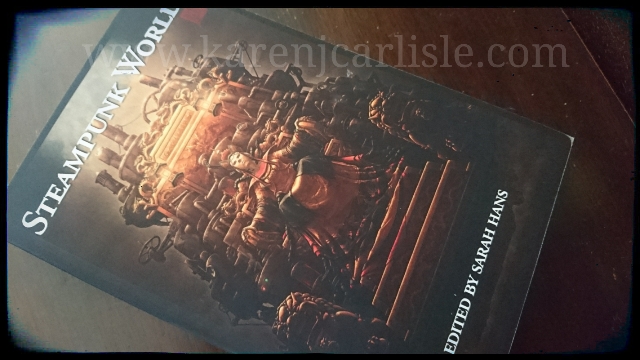 At a local level, we also have participants of varied educational and vocational backgrounds. Even the degree to which individuals experience steampunk is diverse. Some dip their toe in the genre by reading books, watching movies, listening to music or wearing costumes to the local convention. Others delve deeper - creating alternate personas and joining forums. Some immerse themselves, living the steampunk lifestyle to the full or embarking on steampunk-related careers.
For me, the diversity of those who enjoy steampunk is one of its attractions. Steampunk is inclusive. I can be myself, part of a welcoming and diverse community. And it has made my life richer as a result.